Imi Knoebel
(* 1940 Dessau-Roßlau)
Imi Knoebel lives and works in Düsseldorf
Imi Knoebel (Klaus Wolf Knöbel), born 1940, lives and works in Düsseldorf. He is a painter and installation artist. 1964 -1971 he studied with Joseph Beuys at the Düsseldorf Art Academy. There is close contact with Palermo (1974 joint trip to the USA). Based on Malevich's Black Square, 1915, and his text "The Non-Objective World" (1922), Imi Knoebel develops a formally and colourfully minimalised painting that breaks the framework of the classical panel painting and opens up into space. Inspired by Russian Constructivism and Suprematism, Imi Knoebel explores the interrelationship between image and space or between material, colour and space. For example, when Imi Knoebel made Kasimir Malevich's "Black Cross" float on the wall as a picture object in monumental enlargement. In pictures made of wooden panels and in monochrome wooden bodies, Imi Knoebel explores aspects of two- and three-dimensionality, coupling the constructivist principle with that of chance. In photography and video he experimented with the immaterial properties of light. From 1975 onwards, freer forms emerge and Imi Knoebel begins to work with the entire spectrum of colours, which today form the centre of his work. Assemblages made from found everyday objects complement the multi-layered work, which operates with intermedial references and serial procedures. Imi Knoebel is primarily concerned with the interplay and autonomous effect of colour, form, material and spatial situation.

1968 First solo exhibition together with I. Giese in Copenhagen.
hardboard.
1969 - 1975 Experiments with a single line in over 250 000 drawings.
1972 Production of the videotape "X", for G. Schum's television gallery.
1972 - 1987 Participates in the "Documenta 5 - 8" in Kassel.
1975 / 1976 Creates the series of White Pictures in multi-part pictorial constellations.
1976 - 1981 Period of the "Mennige Pictures" with construction and design drawings cut into white paper.
1980 Large Environrnent with coloured plywood panels cut into rectangles, which are layered, stacked and hung ("Genter Raum").
1984 Room construction with hardboard panels based on the dimensions of the studio kitchen ("Heerstraße"). Influenced by Malevich's Suprematism and Constructivism, Imi Knoebel explores problems of painting and form in his abstract geometric works ("Monographs").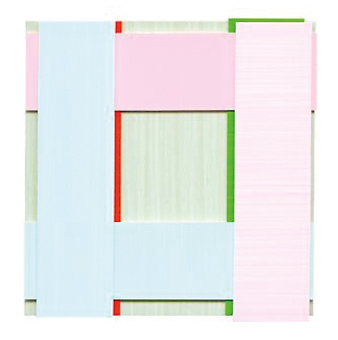 Imi Knoebel
Face 72