Bernar Venet
(* 1941 Château-Arnoux-Saint-Auban)
1941 Born in Château-Arnoux, France
1958/59 Studied at the Municipal School of Decorative Arts, EMAP Villa Thiole, in Nice, France.
1959 – 1961 Stage designer at the Nice Opera, France
1961/62 Military service with the French Army
1966 Move to New York, USA

Preise und Stipendien (Auswahl)
2006 "Robert-Jacobsen-Preis", Stiftung Würth, Künzelsau, Germany
2005 "Chevalier de la Légion d'Honneur", France
2005 "Robert-Jacobsen-Preis", Stiftung Würth, Künzelsau, Germany
1997 "Mitglied der Europäischen Akademie der Wissenschaften und Künste", Salzburg, Austria
1996 "Chevalier des Arts et Lettres", France
1990 "Grand Prix des Arts de La Ville de Paris", Paris, France
1988 "Design Award für Bildhauerei", Norfolk, USA

Bernar Venet has managed to develop a completely independent formal language and is considered one of the most important sculptors of the present day. His unmistakable steel sculptures give him a worldwide presence. He became known in Germany in 1987 with the 20-metre-high black metal arch "ARC 124,5", which was donated by the French state on the occasion of Berlin's 750th anniversary.
Before Venet begins with the free-standing monumental steel sculptures, he uses a wide variety of materials, techniques and media. He paints with tar on canvas, with black varnish on newspaper collages, screws thick corrugated cardboard into reliefs to which he gives a monochrome coat of varnish, heaps charcoal into material assemblages, photographs, films, designs stage sets and experiments with sound recordings, thus exploring the different artistic fields. In 2012, he transformed an exclusive Bugatti sports car into an art object. He has the body painted in the colours of Corten steel with formulas for calculating the power of the engine and transfers them to the interior of the car.
"To be an artist is to seek,
at the risk of getting lost . . .
To be alone on the wrong path ,
is better than going with the others." *

* Bernar Venet, Retrospective 1963 - 1993, exhibition catalogue Musée d'Art Moderne et d'Art Contemporain Nice, 25 June - 12 September 1993, Wilhelm Hack Museum Ludwigshafen am Rhein, 25 September - 7 November 1993, p. 51.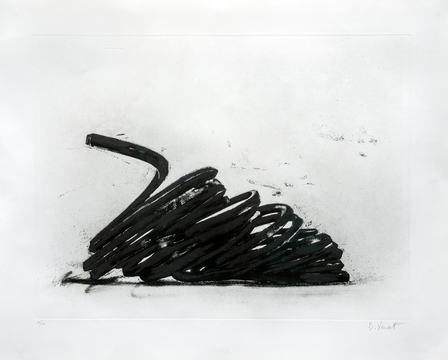 Bernar Venet
Indeterminate Lines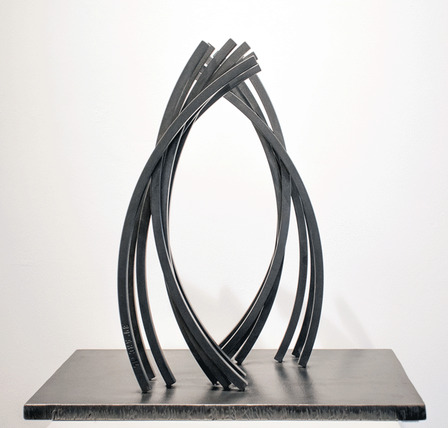 Bernar Venet
89° ARC x 14