Anniversary
40 Years Bentler Gallery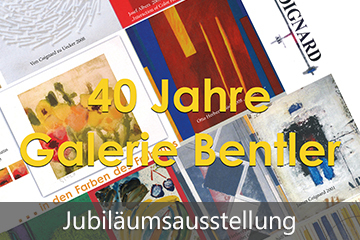 Galerie Bentler - 40 years
The Bentler Gallery is celebrating its 40th anniversary. Forty interesting, very different years in which we have met so many great people, some of whom have accompanied us over the forty years. People from politics and business, people from the most diverse professions, people of all ages and genders. All of these people have been the foundation of the gallery's success.
Of course, the artists whom we were able to involve in the work of the gallery to our delight also contributed to a considerable extent. Their creativity and creative power have often given us and our customers very special hours with very intense experiences at our events. Many of the works of art created by the artists can be found in their homes and flats and still give great pleasure there, often after many years.
It is impossible to overestimate the contribution of the gallery team to our success. All these years, but especially at the moment, we have had and continue to have dedicated staff who have worked and continue to work for this gallery.
So on Saturday, 18 June 2022, we want to say thank you to all of them. You are cordially invited to a small celebration in the gallery on that day. There you can meet most of the artists personally and ask them about their art.
But the gallery and workshop team will also be present, so that you can also look over the shoulder of a gilder at her work. She will certainly allow you to apply or polish some gold leaf yourself.
That we can show an exhibition worth seeing with individual artworks and objects of each artist, that perhaps goes without saying in this context? We hope so.
And of course we hope you will visit us. Here's to a glass of prosecco or wine, to a pleasant conversation and to getting to know each other even better.
The fact that there will be a performance with Marius Singer and various dance artists at 17.00 clock should actually be an additional motivation.
We look forward to seeing you!