BUILT
Michael Cleff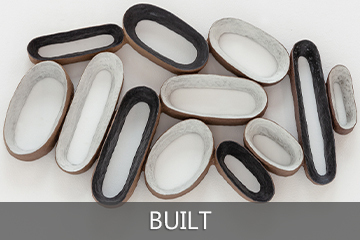 MICHAEL CLEFF
BUILT

PLASTIC WORKS

Exhibition duration 24.03. - 06.05.2023
"The world selectively from the oppressive clamp
of the unambiguous into the vague, the open, for this purpose
it sometimes takes great precision. Michael Cleff's art
is precisely to place his buildings precisely on the blurred
edge of a multiple intermediate. cutting edge of a multiple in-between
. – more precisely: they are this built place."*
*Walter Lokau

Very cordially we invite you and your friends
. friends to the exhibition opening on Friday, the
24.03.2023, at 19:30 in the Galerie Geißler Bentler,
Friedrichstr. 55, in 53111 Bonn.

Greeting: Jenny Geißler-Bentler, gallery owner
Opening speech: Dr. Gabriele Uelsberg, art historian

The artist will be present
. A catalogue will be published in conjunction with the exhibition.
We kindly ask you to register.

Yours
Jenny Geißler-Bentler and Bernd Bentler