André Schweers - FUGE
Exhibition in the Namen Jesu Church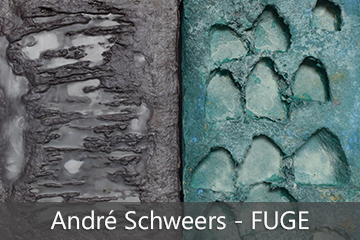 25 May -24 July 2022
The opening of the exhibition will take place on Wednesday
25 May .2022 at 19:30 in the Name of Jesus Church,
in 53111 Bonn.
Greeting: Jenny Geißler, gallery owner, and Oliver Heister,
Member of the Board of the Namen-Jesu-Kirche Foundation
Opening speech: Dr Michael Krajewski, art historian,
Critic and Curator
Musical arrangement: Amelie Held, organist
. Music: Johann Sebastian Bach (1685-1750):
1st Fugue in G minor, BWB 578
2nd Toccata in D minor, from which the Fugue, BWB 565, II.
Closing: Bernd Bentler, gallery owner
A documentation will be published to accompany the exhibition.
The artist will be present.
André Schweers:
The sculptor André Schweers designs his pictorial artistic objects mainly with paper pulp, incorporating other materials such as paraffin and pigments. The use of these specific materials, however, does not directly involve a direct engagement with the element of paper, but is understood in its materiality as an element of appropriation of trace, legacy and settlement. The papers, or more precisely the paper masses, which the artist uses, are also set in a plastic way and condense the different contents of the artistic work in colour and form elements. Since 1992 he has had exhibitions, participations in exhibitions and projects in Germany, Austria, Switzerland, France, Spain, the Netherlands, China and the USA. His works are in the collections of large companies and museums, such as the Musée des Beaux Arts in Tours, the Museum Kunstpalast in Düsseldorf, the Lehmbruck Museum in Duisburg and the Landessammlung NRW.
Amelie Held:
The young organist Amelie Held, known for her red organ shoes, is now considered an internationally sought-after artist. She recently made her debuts at the Konzerthaus Dortmund, the Philharmonie Essen or stepped in at short notice for the international organ cycle in Speyr Cathedral. Her solo concert activities include not only performances in Germany's largest cathedrals and concert halls, but also in the metropolises of the music world, such as Milan, Paris, Zurich, London, Boston, New York and St Petersburg (Mariinsky Concert Hall).
Michael Krajewski
Dr. Michael Krajewski (born 1962 in Cologne), art critic, art historian and curator, is curator of the modern and contemporary art collections at the Lehmbruck Museum in Duisburg. From 1993 to 2000 he was curator at the Kunstverein für die Rheinlande und Westfalen, Düsseldorf, and from 2001 to 2003 he was a research assistant at the Museum Ludwig in Köln.