Ulrika Eller-Rüter
SEA LEVEL
HANDMADE PAPER SOAKED IN INK ACRYLIC, COFFEE, TEA SCOOPED ONTO HANDMADE PAPER PAPER OBJECTS
Ausstellungsdauer 17. September to 20. October 2021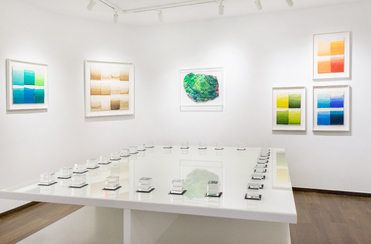 The idea for the exhibition "Sea Level" by Ulrika Eller-Rüter was conceived a year ago. From today's perspective, one might think with clairvoyant quality.

A gallery tells stories about life, takes a stand on philosophical or social questions and informs about new movements in culture and society. Normally with artistic and visual works.

It has been clear to us for a long time that the subject of water and dealing with it is important. And you don't even have to explain it to most people. They know all the problems, but also the beautiful sides and images that are hidden in this topic.

Today, in retrospect, we probably have to say that we did not know all the possibilities and images contained in this theme. Nature has taught us otherwise.

So how happy we are to have invited Ulrika Eller-Rüter to this exhibition. Because this exhibition focuses our gaze once again on the subject of water from a completely different, artistic perspective, completely different from what the media usually do. It permeates all scientific and socio-political perspectives, and it critically rewrites how we deal with this unique fluid. Yes, it has to.

But that is not all. This exhibition shows so much more. For all its thoughtfulness, it also shows the beauty and aesthetics of water. It shows how water itself shapes the pictures in interaction with pigments that it dissolves and transports. Pictures of great joie de vivre are created, joyful and powerful works that can take the viewer's breath away.
In this exhibition, the gallery is also breaking new ground together with the artist. In an installation with black light, one enters a room in which the paintings appear to be filled with water. For the gallery, this is the first time we have worked in an installation.
Water also has a sound. Anyone who has ever heard the sound of the sea understands that. Later in the exhibition, we will show that you can make music with it as "water percussion".
And water is not just water. Every water has its own "fingerprint", unmistakable depending on its origin, which the artist has photographed and archived in acrylic glass cubes.

And so it is very worthwhile to embark on this artistic journey of observation together with Ulrika Eller-Rüter. And as simple as it may sound: water, like almost all other things, has two sides: Destruction but also beauty, fear and terror of it but also longing for it, above all in all its forms: It is essential for life!

It is wonderful that we can embark together with you on this artistic contemplation of the medium of water, which is our very own, from all its sides.