Thomas Röthel
Steel and paper
Steel Sculptures - Embossing on Paper
Vernissage 29. March 2019
Ausstellungsdauer 31. March to 05. May 2019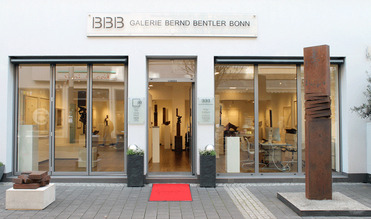 ThomasRöthelEinladungskarte.pdf
For years it has been our heart's desire to show an exhibition of Thomas Röthel's steel sculptures in our gallery. A heart's desire that has now come true, for many reasons.

For one thing, the artist is one of the most important contemporary German sculptors. His exhibition on the island of Mainau/Lake Constance in 2011 and 2014 is legendary today. The artist has received many awards and prizes for his work.

On the other hand, we are personally enthralled by his works and think that they are convincing in every respect: Artistic ambition and aesthetics enter into a wonderful symbiosis here, formed in unyielding steel. Moreover, we know from you as customers that you appreciate these sculptures and many of you already have a sculpture by Thomas Röthel in your possession. The sculpture exhibition was complemented by new embossings in multi-layered papers. Here, the force of the forge hammer hits the vulnerable paper and creates reliefs of incredible transparency, three-dimensionality and floating elegance.

An extreme contrast? On the one hand, the unbending and yet floating in lightness steel with its rusty surface, on the other hand, the white, elegant, floating and transparent paper works? The exhibition was extraordinary.

Wonderful impressions can be found in the catalogue published for the finissage on 05 May 2019. When you have seen these impressions, it is very interesting to read the excerpts in Ms Uti's catalogue. Ms Julia Uti, art historian, M.A., has accompanied the work of Thomas Röthel for years and describes it in great detail. She gave the opening speech at the vernissage on 31 March 2019.