Markus Lüpertz
Myth and reality
Jazz, Sculptures, Watercolours and Graphics
Vernissage 23. May 2019
Ausstellungsdauer 23. May to 11. July 2019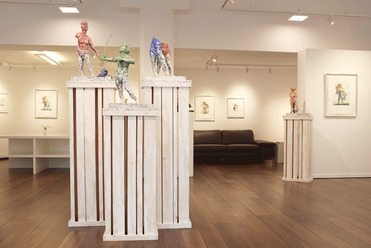 It has long been known that Markus Lüpertz is one of the great contemporary sculptors and artists. But few people know that he also gives free jazz concerts with his band TTT.

TTT was founded in New York in 1983 with the aim of creating a symbiosis that combines music and art. The founding members were a.r.penck, Frank Wollny, Heinz Wollny. The musician in action is a T and has to decide for himself whether to act horizontally or vertically. The basic premise of the experiment was that musicians and artists play together as a band. Over the 36 years of TTT's existence, big names and jazz legends have helped to manifest TTT's music as a unique direction in music history.

The fact that the Old Catholic Parish of the Namen-Jesu-Kirche made the beautiful church rooms available to us for this concert was an additional highlight. After the concert, we went to the nearby gallery for the exhibition opening. The main focus of the exhibition was the sculptures of the 12 signs of the zodiac, newly created last year, and the etching of "Fortuna", created especially for this exhibition, of which we were able to show beautiful, hand-crocheted copies. But many other sculptures and graphics were also on display.

Prof. Dr. Dieter Ronte, the former director of the Kunstmuseum, a friend of Markus Lüpertz and an expert on his work, gave the lecture on the artist and his work. Even Markus Lüpertz took the opportunity to talk about his art and his music: About what drives him, what makes him satisfied and what leaves him less satisfied. About his art and the motivation for it. Such an insight from the artist directly is very, very rare.

Those who were there will not soon forget the jazz concert with the artist and the group TTT, which in this case was very high-calibre, so intense and moving was what we heard there. The spirituality and charisma of the Namen Jesu Church did the rest. The joy of playing and the skill of the musicians was intoxicating.

The Bonner Generalanzeiger and the Bonner Rundschau reported widely and positively about this exhibition, even the radio station WDR 2 mentioned it.

Markus Lüpertz newspaper article General Anzeiger

For us, an occasion like this is an opportunity to say "thank you" in this way to you who keep coming to the gallery and are extremely positive about it. Of course, we hope for the future that this attachment will continue.

To our delight, we can now present the exhibition catalogue. We hope you enjoy browsing through it. It was a very special evening for us with you and a great experience with Markus Lüpertz.