Markus Lüpertz
Myth & Modernity
Sculptures, Unique Pieces, Graphics
Vernissage 30. March 2014
Ausstellungsdauer 30. April 2014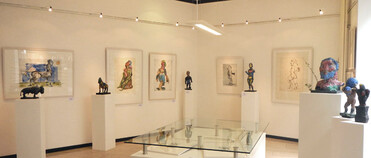 On 30 March this year, a large Beethoven sculpture by the artist Markus Lüpertz was unveiled in the Stadtgarten on Adenauerallee in Bonn.

"The contemporary Beethoven monument in Bonn's Stadtgarten offers a different entry point into the discussion of Beethoven and his work."(Lord Mayor Jürgen Nimptsch)

We took this event as an opportunity to open a vernissage with works by the artist Markus Lüpertz in our gallery on Friedrichstraße on the same day, following the unveiling. Professor Dieter Ronte, art historian and former director of the Kunstmuseum Bonn, spoke about the exhibition.