Marius Singer
Landscape, Structure and Colour
Paintings on canvas and paper
Vernissage 29. April 2016
Ausstellungsdauer 29. April 2016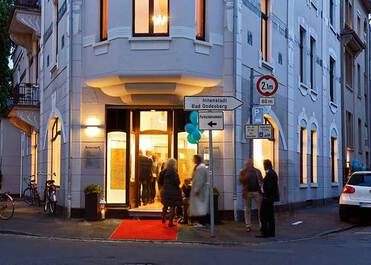 Exhibition on 29 April 2016 as part of the 4th Night of the Galleries in Bad Godesberg

We showed works by Marius Singer from our exhibition "Landscape, Structure and Colour", which has been running since 15 April 2016. The exhibition was accompanied by a ballet performance staged by the artist.

The artist himself was present that evening and was thus able to tell the customers something about his artistic work.

Our frame workshop also traditionally opened its doors on this day to give the numerous visitors an insight into a medieval craft. As always, the visitors were allowed to try their hand at gilding under the expert guidance of our master gilder Mrs Geißler.