Günther Förg - to the builders ( portfolio from 2002 )
Vernissage in August 2015 as part of the 5th anniversary of Friedrichstraße 53
Vernissage 01. August 2015
Ausstellungsdauer 01. August 2015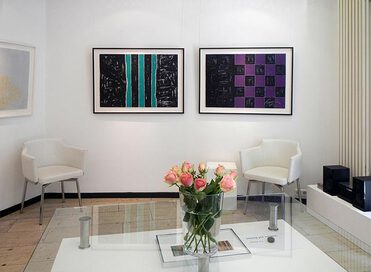 Our gallery has been represented on Friedrichstraße in Bonn for 5 years now. To mark this anniversary, we showed a solo exhibition there with prints by the artist Günther Förg, who unfortunately passed away far too early.

Förg is known for his appropriation of American minimal art. What seemed austere and consecrated there, however, comes across laconic, fleeting and playful in Förg's work.
Förg also experimented with unorthodox materials such as metal pigments and sand, and kept pushing forward to new pictorial inventions. Most recently, he replaced the broken colours of his earlier paintings with cheerfully bright splashes of colour.