Andrè Schweers
Plastic records
Scripturals, folios, prologues
Vernissage 08. June 2018
Ausstellungsdauer 08. June to 08. July 2018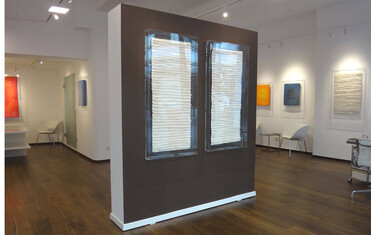 It is extremely rare for an artist to succeed in finding a new and unmistakable language of form and colour. André Schweers is without doubt one of them. His "scripturals", his "prologues" and "folios", which he produces as paper castings and patinates in a process he developed himself, have a magical character. Anyone who has seen these works, which are on the one hand a picture but on the other hand clearly an object, will not forget them and will always recognise them as a "Schweers".

Dr. Gabriele Uelsberg, Director of the Rheinisches Landesmuseum, spoke on the subject of the exhibition.
The artist was present.
A catalogue was published to accompany the exhibition. Look here.